"Mustang was once an independent kingdom, although closely tied by language and culture to Tibet. From the 15th century to the 17th century, it's strategic location granted Mustang control over the trade between the Himalayas and India. At the end of the 18th century the kingdom was annexed by Nepal"
Wikipedia
Lo Manthang, Mustang - Trekking in Nepal
18 Days in Nepal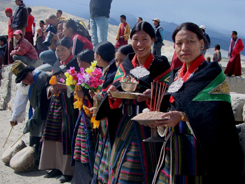 Trekking to Lo Manthang, Mustang is a sensational journey beyond the Himalayas to one of the most remote kingdoms on earth. Hidden behind the Himalayan giants of Dhaulagiri and Annapurna, It is truly the Forbidden Kingdom. Once an independent kingdom, this land of Tibetan Buddhism was only opened to outsiders in 1992. With its ancient monasteries, palaces, caves and ruins of old forts, Mustang is rich in art and history. This is perhaps the only region where Tibetan culture and religion have survived over the centuries mostly untouched by time and modern colonization. This trek follows the ancient trade route, passing through historic towns and eventually ending at the capital city of Lo Manthang.
This is a restricted region
and requires a permit fee of US$ 500 per person.
GRADE C (Moderate to Strenuous):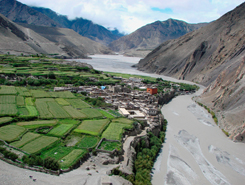 The trek to Lo Manthang, Mustang is 11 days of moderate to strenuous trekking at medium elevation (max. 3,950m). 11 nights camping - 6 nights hotel. This trek is for the more serious adventurer. It involves walking at medium elevation so a higher level of physical fitness and stamina is required. The more fit you are, the more you will enjoy this trek
Altitude Sickness (Acute Mountain Sickness)
There is a real threat of altitude sickness on the Lo Manthang trek. Even though Discover Nepal treks are carefully planned to allow altitude acclimatization, it is impossible to determine who may be affected by it. We strongly suggest you check with your physician for more information on your health before leaving for this trek.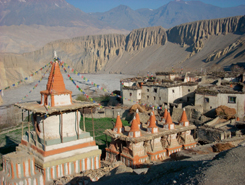 Day 01:
Arrive Kathmandu. Pick up at airport
Day 02:
Morning sightseeing tour of Pashupatinath & Boudhanath
Day 03:
Fly to Pokhara. Free to explore the city
Day 04:
Fly to Jomsom and trek to Kagbeni (2810m)
Day 05:
Trek along the Kali Gandaki river to Chele (3100m)
Day 06:
Ascend steeply through Chele gorge. Trek to Geling (3570m)
Day 07:
Continue trek to Charang (3560m)
Day 08:
It's a beautiful walk from Charang to Lo Manthang (38400m)
Day 09:
Explore 15th century monasteries, and the Royal Palace
Day 10:
Take the alternate trail to Drakmar (3820m)
Day 11:
Trek to Syangboche (3800m)
Day 12:
Trek along the Kali Gandaki river to Chhuksang
Day 13:
Trek back to Kagbeni
Day 14:
End trek at Jomsom (2713m)
Day 15:
Fly to Pokhara. Rest of the day free in Pokhara
Day 16:
Fly to Kathmandu.
Day 17:
Free day in Kathmandu
Day 18:
Final departure from Kathmandu
---
Lo Manthang Trekking - Trip cost & details
Land & Internal Cost (twin sharing basis)
$4480 (3 to 5 people) per person
$3120 (6 to 9 people) per person
$2640 (10 to 16 people) per person
PLUS Mustang Permit Fee $500 per person to be paid in US$ in Kathmandu
Airfare
- $500 extra per person
Kathmandu - Pokhara - Jomsom - Pokhara - Kathmandu
Single Supplement
$540
Recommended Travel Season:
Febuary - May, September - November
---
Cost includes:
* Expert Leader
* The cost of obtaining the restricted area permit, usually $100 per person
* All airport transfers in Kathmandu & Pokhara
* 3 nights including breakfast at Yak & Yeti or similar
* 2 nights including breakfast at Shangri-La Village Resort or similar
* Sightseeing tour of Pashupatinath and Boudhanath with guide, transfer, and entrance fee
* 11 days trek with all meals, camping equipment, sherpa guide/cook, and porters
* Annapurna Conservation Area Project and TIMS permit fees
Cost does not include:
* Mustang Permit Fee (US$500 per person)
* Nepal visa fee
* Medical immunization
* International airfares (hotel accommodation en route if any)
* Excess baggage charges
* Lunch and dinners in Kathmandu & Pokhara
* Insurance of any kind
* Emergency evacuation by helicopter or other means which client's insurance should cover
* Personal expenses such as sodas/soft drinks, alcoholic beverages,laundry etc.
* Monastery donations where applicable
* Tips to all support staff